ILLUMINATED GLASS
Illuminated Glass Is?Our Ultimate Carved &?Etched Glass Created to Impress For Years to Come
KRYSTAL GLASS COMPANY
Custom Fine Art Glass by Peter Edward
(561)?601-4181
Illuminated Glass
Our Finest Etched and Carved Art Glass
Imagine the look on the faces of your friends and family when you show off your?brand new custom commissioned illuminated glass sculpture of carved and etched glass from Krystal Glass Company. Bill and Stephanie know exactly what it?feels like. Guests got to admire?their new showpiece?up close at the first?party they had?after glass artist Peter Edward transformed their kitchen and bar area with a stunning 100″ long glass etching illuminated with LED lights. The artwork is?a swordfish swimming underwater. The illuminated carved glass?is the focal point of their entertainment space. Slow color-changing?LED lights enhance the ambiance of the space.
"Everyone raved about the glass," Stephanie said when describing the reactions of her guests. Even when they are not entertaining, they enjoy the tranquil beauty of the illuminated glass all to themselves. "I often find myself quietly admiring it in the evenings when it's all lit up. We just love it!" she added.
Illuminated carved glass is a spectacular art glass form combining glass carving and glass etching illuminated with multi-colored LED lights. Illuminated glass is suitable for almost any interior or exterior space. Our custom illuminated carved glass creations are not available in stores and each is unique.
Glass Etching On Illuminated Glass Shower
The best view of this new illuminated glass shower will be enjoyed while soaking in the bathtub across from it. The custom marine art and LED lights illuminate the shower glass making this new bathroom a special retreat for homeowners Mike and Betty. No more boring bathrooms with glass etching like this. The custom illuminated glass etching was done to the exact specifications of the homeowners by glass artist Peter Edward. The glass etching of the nautical underwater coral reef scene is created on a special type of shower glass and highlighted with waterproof multi-colored LED lights for safe and beautiful operation. ?In addition to illuminated glass showers, we do?many styles of etched glass shower doors.
Illuminated Glass Art
Stunning, timeless illuminated glass designs with one or more colors for a dramatic affect.
Call now to learn more or schedule an appointment.
(561)?601-4181
Illuminated Glass Gallery- Etched & Carved Glass
Uses for Illuminated Carved?Glass
Glass artist Peter Edward?begins with freehand techniques for illuminated?carved glass. He also uses multi-stage glass etching for fine detail and shading of his designs. ?Glass etching illuminated with LED lights?is spectacular for many applications in a home, business or yacht. A few ways to display custom illuminated carved?glass are as decorative wall hangings, room dividers, built in to cabinetry and walls, free standing panels, counter or bar top mounted, shower doors and enclosures, vanity tops, shelves, or any space.?Glass carvings and glass etchings illuminated with waterproof LED lights?are perfect as outdoor art glass, landscape lighting, wall sconces or interior lighting.
We use the highest quality ultra bright LED lights in?multiple colors or single colors with a variety of color changing options. Our custom made frames for illuminated?glass art will conceal the LED lights and any backing material selected such as mirror or a dark color for contrast. Installation is available for local South Florida commissions or we'll ship to your location and travel to install.
Typical Framing For Illuminated Glass
Several installation methods are available for illuminated glass sculptures. Glass etching illuminated with?LED lights offers clients a?turnkey solution by?providing the art glass and?framing in one or more easy-to-hang pieces that are?safe for shipping. Framed art glass is?shipped ready-to-hang with no assembly required. Simply connect the LED lights with our easy instructions.?Electrical outlets and through-the-wall wiring can be provided by a qualified electrician. Framing and backing material can be any color. Black is most popular because of its beautiful contrast with the etched and carved glass design?when it is illuminated. Stand alone pieces are also striking when mounted in channel or base shoe. A key benefit to this type of installation is the ability to walk around the piece and enjoy it from multiple angles and levels.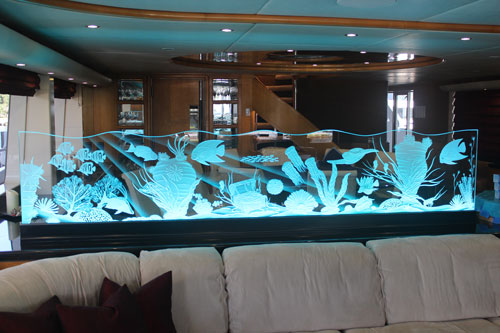 Aluminum base shoe mount for a glass etching illuminated with LED lights on bottom only. Great for pieces with low heights. Allows visibility from above,?both sides, and other rooms. Awesome room divider.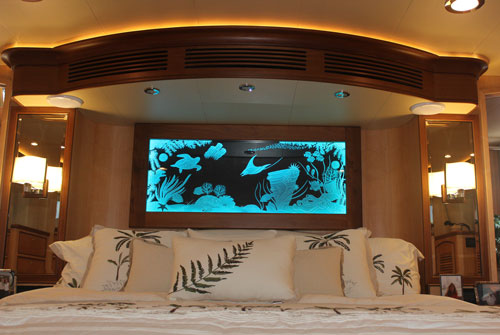 This illuminated carved glass is?framed in?custom teak wood for a yacht and hung on the bulkhead. Steel, aluminum, decorative woods, and mica facing also available for frame construction. All frames custom-made for each piece.
Frame Specifications
Typical frame specifications. Please contact us to explore other options. We're here to answer your questions.
Frames:?1/8″ welded steel or aluminum. ?Primed and painted in flat black or white. Decorative wood and mica are options. Black felt backing to inside. Sanded wood black backing to rear. Width of LED light strand is 3/8″.
Glass: thickness is 1/4″. Crystal clear, low-iron tempered glass. Design is etched and carved on back. Front side of glass is smooth and easy to clean.
Lighting: multi-color or single color LED??lights available. Typical colors are red, green, blue, white, orange, yellow, cyan, purple. Wireless battery-operated remote control. Power supply is 12 volts, 50 Watt,?standard U.S. 110 outlet.
Typical Installation Options
1.?Through the wall. To wire LED lights through a wall, a 1/2″ hole is required for wires. Frame face is 1 1/4″ wide and 1 1/4″ depth off wall.
2.?Recessed Box. Controller and power supply can be mounted to rear of piece if using a recessed electrical box. Frame face for this configuration is 1 1/2″ wide and 2″ depth off wall.
Call Now To Request a Quote:
(561)?601-4181
Share With Friends